Import Sitemap XML
Plans available to: All
This feature allows you to create a visual sitemap from a sitemap.xml or sitemap_index.xml on the web. It creates a structured visual sitemap based on the URL structure.
1. Find your website's sitemap.xml file, normally found at yourdomain.com/sitemap.xml.
2. From your sitemap list page click on "New Project" and select 'Import from a sitemap.xml file'.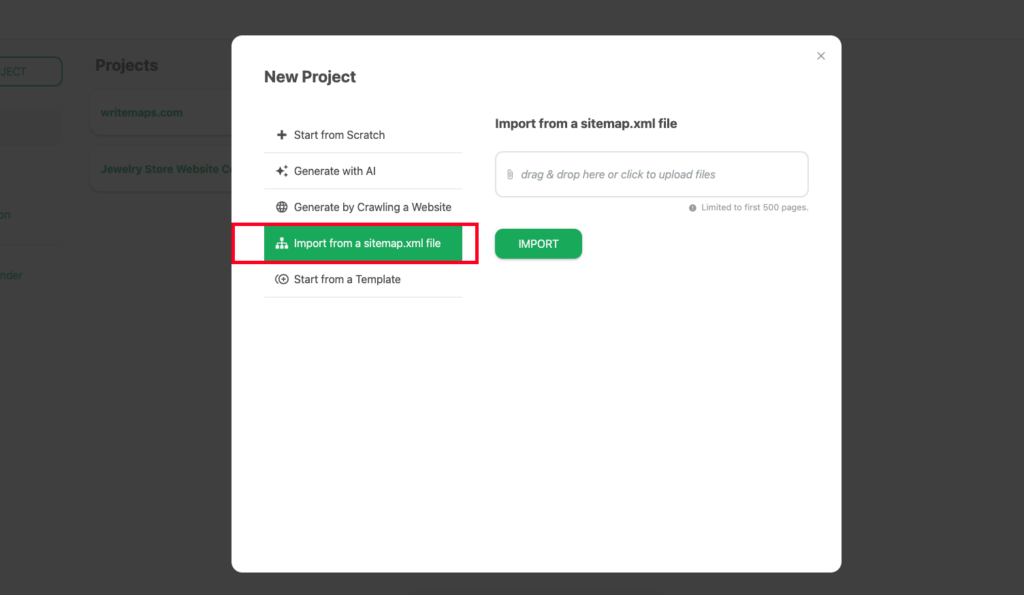 3. Paste your sitemap.xml file.
4. Click 'Import'.
Troubleshooting:
Can you view the sitemap.xml page at the link you have pasted into WriteMaps? If you can't view it, then WriteMaps definitely can't. Test the link first by trying to visit yourdomain.com/sitemap.xml or similar into your browser.
Is your SSL certificate valid? When you view the sitemap page in your browser, if it has 'Privacy Error' beside the URL then there may be SSL certificate issues to fix before WriteMaps can read this file.
If your website has disallowed robots in your robots.txt file and you want to just allow WriteMaps, add 'User-agent': 'WriteMaps Sitemap XML Bot' and 'Disallow: ' to your robots.txt file.